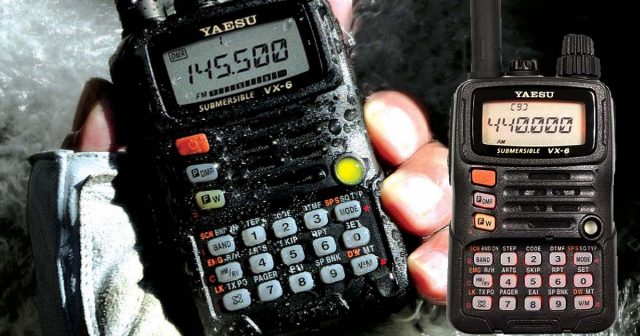 When it comes to buying a handheld radio for preparedness purposes you want something that you know is going to hold up during extreme conditions. Unfortunately, a lot of modern radios are cheaply made garbage – hey, I own a few too; I'm just not going to trust them in my Bug Out Bags.
So I went looking for a rock-solid radio that I could trust as my go-to bug out radio and found what I was looking for in the Yaesu VX-6R. The radio is weather-resistant (they claim submersible in water), built like a tank, can transmit on 2 meters, 1.25 meters, and 70 cm, and has a huge memory bank for storing a ton of easy to access emergency frequencies.
A Preparedness Look at the Yaesu VX-6R Radio
The Yaesu VX-6R is a Tri-Band Radio that allows you to transmit on 2 meters (144MHZ), 1.25 meters (220MHZ), and 70 cm (430MHZ). On top of giving you a wide range of operation on UHF/VHF Ham Bands, the radio is also great for monitoring and pulling in stations with a receiver range that covers 504kHz to 998.99MHz.
From a Preparedness Standpoint, there are a couple of things we really like about this radio.
Both the TX and RX range is awesome.The ability to be able to transmit on three different ham bands and then gather intel from such a wide range of frequencies makes this a great prepper radio.
The Solid Weatherproof features of the Radio: It's JIS7 Resistant, which means you can actually drop the radio into water and nothing will enter the casing or touch the internal components of the radio. That makes it great for those who are operating in bad weather, near water, or in dirty and dusty conditions.
The Huge Memory Bank: The VX-6R has a gigantic memory bank, with the ability to program 1,000 channels into the memory. From a prepper's standpoint, we like this feature because it allows you to program a huge amount of local repeaters, simplex frequencies, weather channels, and law enforcement stations, and then still have room to pre-program the radio with repeaters along your bugout routes.
Memory Bank
On a lot of radios the memory just sucks. One of the things we really like about the VX-6R radio is how the memory bank is setup. It has several really helpful memory banks including 900 "standard" memory channels, 99"Frequency Skip Memory" Channels, 11 "Home" Channels, 50 PMS Channels, Weather Broadcast Channels, 89 Shortwave Memory Channels and 281 VHF Marine Channels.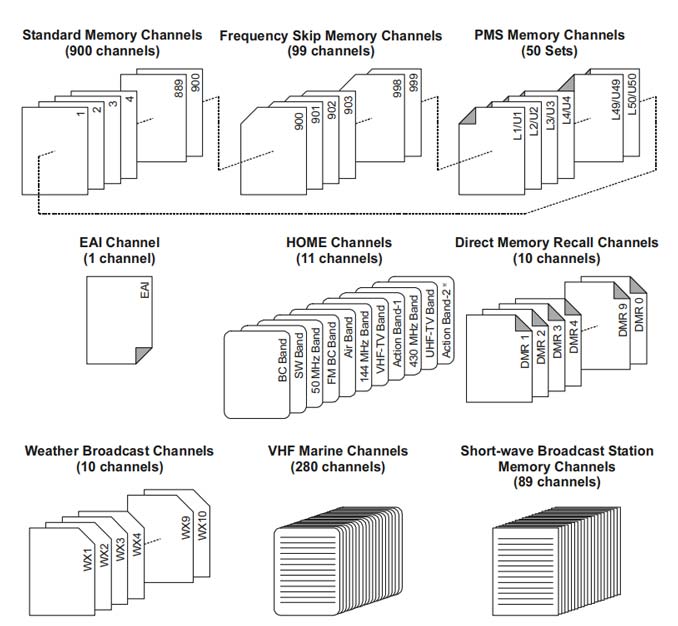 For a prepper this is helpful as hell; I like scanning the bands but when you really need to find something, having all of your go-to stations programmed into the radio for quick access can really be helpful during an emergency situation.
Yaesu VX-6R Specs and Features
Frequency Ranges
RX

0.5 – 1.8 MHz (BC Band)
1.8 – 30 MHz (SW Band)
30 -76 (59) MHz (50 MHz HAM Band)
76 (59) – 108 MHz (FM Band)
108 – 137 MHz (Air Band)
137 – 174 MHz (144 MHz HAM Band)
174 – 222 MHz (VHF TV Band)
222 – 420 MHz (222 MHz HAM Band)
420 – 470 MHz (430 MHz HAM Band)
470 – 800 (729) MHz (UHF TV Band)
(758 – 774) MHz (UHF TV Band)
803 – 998.990 MHz (Information Band)
(USA: Cellular Blocked)

TX

144 – 146 (148) MHz
(222 – 225 MHz)
430 – 440 (450) MHz
RF Power Output
144 MHz/ 430 MHz

High: 5W
Low 3: 2.5W
Low 2: 1.0W
Low 1: 0.3W

222 MHz

High: 1.5W
Low 3: 1.0W
Low 2: 0.5W
Low 1: 0.2W
Recommended Accessories and Add-ons
The Yaesu VX-6R is a pretty damn good radio right out of the box, but as with all radios, there are some add-on accessories that can really make this radio sing!
Antennas
The stock antenna provides pretty good performance across all three bands, but if you want to kick things up a notch we really like the Diamond SRH320A 144/220/440 MHz Tri-Band Handheld SMA Antenna. This is going to improve the overall performance of the radio and should help you get some extra distance.
For vehicle operations, we like the MFJ-1729 magmount antenna.
Antenna Adapters

If you plan on using your handheld in your vehicle or experimenting with homemade antennas, you are going to want to keep a couple of SMA to PL 259 adapters in your vehicle and in your bugout bags so you can quickly connect the radios antenna adapter to a standard antenna coax line.
We like the DHT Electronics Handheld Antenna Cable SMA Male to UHF SO-239 Female Connectors. We like these because the extra bit of cable between the connectors will help relieve the tension on the SMA connector, and can prevent it from wearing down or breaking over time. Better to replace a $7 connector than have to replace or repair the radio!
Cables
The radio is not to difficult to program on its own, but since it gives you so many memory channels you are going to want to buy a programming cable and programming software so you can quickly load your programmed frequencies without ever having to touch the radio.
This software interfaces with ARRL Travel Plus, RFinder-Worldwide Repeater Directory, Radio Reference, or Repeater Boo to program all of your local repeaters – it also allows you to quickly reprogram the radio in the event you need to bugout or are simply traveling to a new area and want to try out some repeaters along your route.
Charging Cable – We also recommend having a USB Charging cable for mobile operations and the ability to recharge your batteries via an emergency power bank.