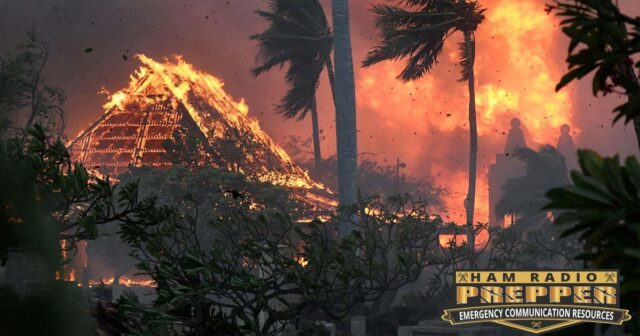 In the wake of the devastating wildfires that swept across the Hawaiian island of Maui, the importance of amateur radio, or "ham radio," has once again proved invaluable. The National Association for Amateur Radio® (ARRL) and the Hawaii Amateur Radio Emergency Service® (Hawaii ARES®) have demonstrated the critical role that ham radio plays in disaster response and communication when traditional infrastructure fails.
The wildfires, fueled by the powerful winds of Hurricane Dora, tore through Maui and Hawaiʻi Counties, leaving destruction and chaos in their wake. By the time the fires were extinguished, much of Lāhainā on Maui had been reduced to ashes. These sudden devastating events serve as a reminder of the unpredictable nature of disasters, the need for robust communication systems, and how ill-prepared government officials are when it comes to emergency preparedness.
Ham Communication During Chaos
Amid the absolute chaos, and failed response by local emergency management officials, amateur radio operators helped to keep communication lines open. ARRL Section Manager Jospeh Speroni, AH0A, acknowledged the shock of the Maui Disaster and the impact it had on everyone involved. In such critical moments, ham radio operators become a lifeline, connecting communities and relaying vital information when traditional communication methods are compromised.
Speroni's message highlighted the challenges faced on Maui. However, when local officials failed to help, the efforts to keep the communication channels open did not stop — HAMS JUMPED IN. The ARRL Hawaii ARES website was quickly modified to provide up-to-date emergency communications news, detailing the status of amateur radio and communication infrastructure, affected systems, repeaters, and other essential communication resources.
Maui's Communication Landscape
The wildfires not only ravaged physical infrastructure but also disrupted phone, internet, and cell services across Maui. Ham radio's role became particularly crucial in areas where fiber optic lines were burned, leaving limited means of communication. The Maui example illustrates the value of having alternative communication options that can function independently of conventional networks. When disaster strikes, you need to be able to communicate and gather intel on the disaster.
Maui's extensive amateur radio repeater system, including the KH6COM VHF/UHF countywide system, demonstrated its worth during these trying times. While some repeaters lost connectivity due to damaged fiber optics cables, others remained operational. The Pu'u O Hoku Ranch repeater on Molokai's East end became a vital link for those in Lahaina, showcasing the resilience and adaptability of ham radio networks.
Lessons for Preparedness
As communities across the globe face the increasing commutations breakdowns and failures, having your own reliable communication systems in place is no longer a luxury but a necessity. The ability to quickly establish communication channels, even in the absence of conventional infrastructure, can mean the difference between life and death.
Ham radio's ability to operate independently of the internet and phone systems is its defining strength. The ARRL Amateur Radio Emergency Service® (ARES®) consists of trained volunteers who are registered and equipped to provide communication support during emergencies. Their commitment to "When All Else Fails®" reflects the understanding that ham radio becomes a lifeline when traditional methods falter.
The events on Maui underscore the vital role of ham radio in disaster response and preparedness. While technology continues to advance, the reliability and adaptability of ham radio networks remain unparalleled in ensuring communication continuity during crises. The experiences of amateur radio operators in Hawaii serve as a testament to the importance of being prepared and equipped to communicate in the face of adversity.
Emergency Communication Resources: