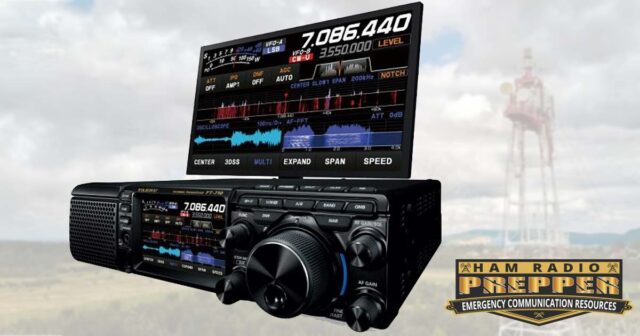 The Yaesu FT-710 AESS is a high-frequency transceiver designed for amateur bands, offering an impressive range of features that appeal to both seasoned ham operators and newcomers alike. The radio has generated a lot of talk among amateur radio operators thanks to its impressive specs and competitive price point. We will explore the technical specifications, user experiences, and comparisons to other popular transceivers to determine what makes the Yaesu FT-710 stand out.
FT-710 Technical Features:
The FT-710 is a high-frequency transceiver designed for amateur bands, featuring transmission and reception capabilities across various modes, including A1A(CW), A3E(AM), J3E(LSB/USB), and F3E(FM). It operates within the frequency range of 1.8MHz to 50MHz for transmission and 30kHz to 75MHz for reception.
Performance In the Field:
The receiver and DSP performance of the FT-710 are exceptional for its price range. With a Blocking Dynamic Range (BDR) of around 128 dB, it provides excellent resistance to digital signal processing overflow. Unlike some other transceivers, when the RX signal exceeds the zero dBFS limit, the FT-710 subtly reduces the dynamic range, avoiding audio dropouts or distortions.
TX Audio and Power Output:
The radio boasts decent audio right out of the box and a high average TX power, easily reaching its maximum of 100 watts without a processor. Hams can further optimize the TX audio by utilizing the parametric equalizer.
Comparisons to Yaesu FTDX-10 and Icom IC-7300:
The FT-710 shares many functions and features with the Yaesu FTDX-10, making it easy for existing owners to adapt to this new radio. While the FT-710 excels in receiver performance and audio quality, some areas, like the Digital Noise Reduction (DNR), could use some improvement. Nevertheless, the FT-710 impressively competes with the FTDX-10, and you get a lot of RX and TX power at a decent price point.
Compared to the Icom IC-7300, the FT-710 offers a quieter and less fatiguing audio experience thanks to its superior receiver performance. Its digital noise reduction is adequate but not miraculous, and the user interface might feel less elegant and ordered than the IC-7300. However, the FT-710's fundamentals as a receiver are outstanding, which makes it a compelling choice – and this is coming from someone who loves the IC-7300.
Pros and Cons:
PROS:
Excellent receiver performance with quiet audio
Effective digital noise reduction
Contour control for noise reduction
Flexible and adjustable transmit audio through the parametric equalizer
External display terminal (DVI-D) and two USB ports
Real-time 3-Dimensional Spectrum Stream presentation
CONS:
DSP features limited in AM mode
Inferior AM performance compared to IC-7300
Interface is not as good as IC-7300
Some minor inconveniences in adjusting key DSP features
What Yaesu has to say about the radio and Online Rumors about the FT-710…
Ham Radio Prepper's Final Verdict: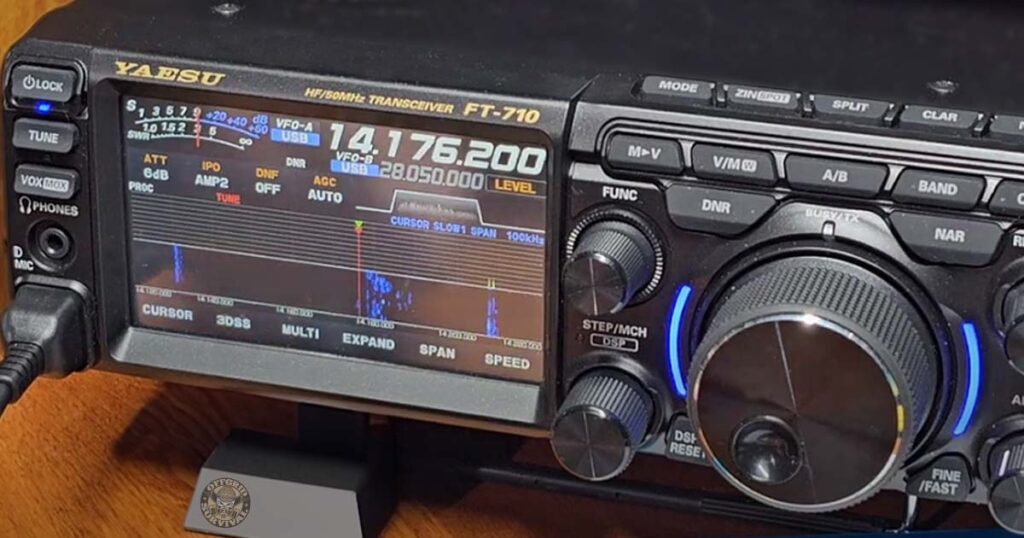 The Yaesu FT-710 AESS is a feature-rich, competitively-priced SDR transceiver with exceptional receiver performance. Despite a few minor drawbacks and interface differences compared to the Icom IC-7300, the FT-710 impresses with its quiet audio and powerful reception capabilities. Its extensive range of functions and adjustability make it a strong choice for those seeking a DSSDR device in the 100-watt class.
Antennas:
We used two different antennas that worked well with this radio. But overall, as a good starting point, we like the MFJ-1778 G5RV Wire Antenna.
Power Supply:
Our primary base station power supply for all our radios is the Astron RS-35M-AP and is exactly what we would recommend for this radio set up.