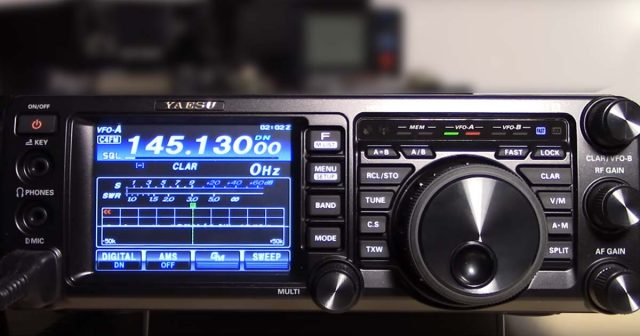 Over the last week we've been playing with one of the latest radios from Yaesu, a radio they claim can pretty much do it all.
The Yaesu FT-991A is a compact, all-band HF base station that is small enough to be used as a mobile rig or to be used for dedicated field operations.
A Preparedness Look at the Yaesu FT-991A
I love it when a radio can do it all, and the ability to cover every ham band in one radio is something that instantly caught our attention and drew us to this rig. While I know it's going to be hard to cram all those bands into such a compact system and expect it to perform as well as a single-band radio, there is definitely some preparedness pluses to being able to cover such a wide range of frequencies in a single radio.
What we like about the Yaesu FT-991A:
160 Meters through 70 Centimeters in one radio! If you have a limited amount of radio space, then this is one of the biggest selling points of this model. A single radio with MF/HF/VHF/UHF transmission with AM/FM/C4FM/USB/LSB/CW/DATA and RTTY is virtually unheard of.
With so much crammed into such a compact radio, I wasn't sure what to expect, but overall we felt the radio had great filtering, good RX sensitivity, a good spectral display, and good reports on TX.
The real-time spectrum scope really helped pinpoint the location of signals, especially when trying to pick up weaker signals.
There is a 160 – 6 Meters High-Speed Automatic Antenna Tuner included in the radio.
What we didn't like about the Yaesu FT-991A
Being able to monitor all of these bands is great, but we would have liked to see dual monitoring. That's the one thing that we really would have loved to see; otherwise, you start to miss having a second radio to monitor on VHF or UHF, while using HF on the main VFO.
The internal speaker kind of sucks, but again there is a lot packed into this tiny unit so as long as you have an external speaker you should be fine.
Yaesu FT-991A Specs and Features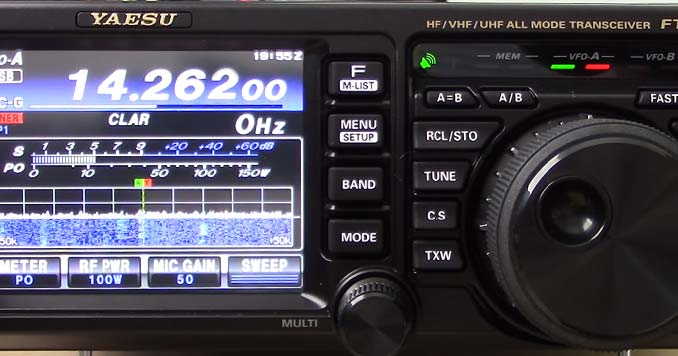 Frequency Range:
Tx: 1.8 MHz – 54 MHz, 144 MHz – 148 MHz, 430 MHz – 450 MHz (amateur bands only) Rx: 0 kHz – 56 MHz, 118 MHz – 164 MHz, 420 MHz – 470 MHz (specified performance, amateur bands only)

Output Power:
100 W 25 W 160 – 6 Meters
50 W 12.5 W 2 Meters/70 Centimeters
Recommended Accessories and Add-ons
The Radio is pretty good to go out of the box, but there are a couple of things that can greatly improve the radio performance.
Antennas:
We used two different antennas that worked well with this radio. For HF, we liked the MFJ-1778 G5RV Wire Antenna and for VHF/UHF we used an MFJ-1729 Magmount antenna.
Power Supply
If you are using it as a mobile rig, then you can simply wire it into your vehicle's battery system. If you decide to use it for a base station we recommend the Yaesu FP-1030A.